Here at Manchester SEO one of the most common talking points is to explain which keywords to target and why!
How do we do keyword research and what are the main principles to get it right for their website.
In this article we give you a beginners guide to keyword research and how to do it. Also we detail how to do it without spending lots of money on keyword research tools/analyzers.
Want to learn how to do your own keyword research? Read on and by the end of this guide you'll know exactly how to come up with a list of relevant keywords to optimize your site for success in the search results.
Why is Keyword research still important?
So many of our clients have overlooked keyword research thinking it's no longer necessary.
Why? Well its because, every article and resource out there says you should be writing for the users and not the search engines.
Of course, we know that writing content that answers your audience's questions is critical to your success online. But if you want to:
Assist Google to understand what your site is about
improve your sites chances of showing up in the search results when users are looking for your business
You have to do proper keyword research, otherwise it is not going to happen.
If you want searchers to find you in Google results, you will need to know exactly which terms and phrases they're using to find the same businesses as you, and then optimise your site in that manner.
Is keyword research that important?
Mmmm can you guess what I am going to say?? Ha ha yes!
Let me try to explain:
Every time a user runs a search online, search engines like Google or Bing have to determine which results to display from millions of possible pages. They have to decide which are the most relevant matches for every single query. That's why it's critical to choose your keywords carefully so that search engines can match and display your website in the search results for the most relevant user queries.
The goal is not only to rank on the first page of a search engine results page for relevant keywords, but also to ideally rank in the top 3 positions on that page.
This is because the top 3 positions are the positions users click on the most. The closer you are to the top of Google's search engine results page for your relevant search terms, the more visibility and traffic you will get, sometimes in the 1000's.
What type of keywords should I target?
During your research, make sure you focus on these two types of keywords:
"Profit" keywords, meaning those that make you money. These include keywords related to your products alongside terms like "affordable" and calls-to-action such as "buy now".
"Informative" keywords, meaning those that bring you traffic or links.
To achieve success for your website, you need to focus your efforts on both types of keywords, and not just one.
Keyword research glossary
To better understand the keyword research process, let's quickly explain a few basic terms:
What is a keyword? A keyword, (Curtesy of Yoast) or a focus keyword as some call it, is a word that describes the content on your page or post best. It's the search term that you want to rank for with a certain page. So when people search for that keyword or phrase in Google or other search engines, they should find that page on your website.
What are long tail keywords? These are 3-5+ word queries that, according to Moz, make up over 70% of online searches.
Why is this? Well its because they target users who have made the initial research already and are much closer to purchasing the service/product.
e.g. a user who is searching for "wedding photographer" is likely in the early stage of gathering information while someone searching for "wedding photographer Stockport price" or "how much does a wedding photographer in Stockport cost" is most likely ready to buy those services.
What is a search volume for keywords?
This is shown as the average number searches per month that a keyword has been searched for.
Ideally you should be targeting the keywords with the highest search volumes as this increases your chances of getting more traffic and sales.
Beware though as keywords have a higher search volume can be highly competitive and long tail keywords have a smaller search volume.
It is important to make sure that the user intent fits with the keywords you are doing your research on.
How to research keywords
Follow these steps to do your keyword research:
Step 1: Come up with a list of relevant search terms
begin by assembling an initial list of key terms and phrases that your target audience would search for to find your business in the search engines.
So put your customer hat on and try to determine which terms they would search for when looking for your business.
Include as many short and long tail keywords as you can possibly think of. At this point in the process we are brainstorming, trying to come up with as many as we can. Put yourself in your searchers position, what do you sell and how would you find that on a search engine?
This list is then used later in the process as we narrow down which are the most useful in SEO terms to drive traffic to your site.
Step 2: Use tools to get additional keyword ideas
Next, you should check and see which keywords you're already ranking for. A fantastic tool for this is the Google Search Console (GSC).
If you haven't already, you can set up your account now. This guide to Google Search Console explains how to set it up and what valuable information you can find and use to improve your site.
When it comes to keyword research, GSC is vital as it shows the keywords your site is currently ranking for. It is also FREE and supplied by google, so why not!?
To find out keywords you rank for, go to Performance-> Queries.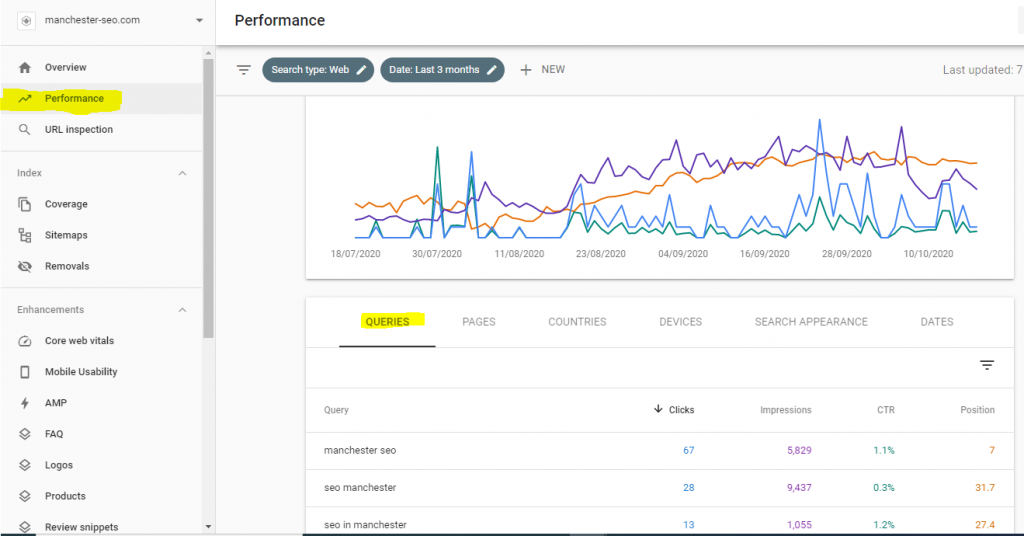 Here you'll see the ave. position for each of the keywords you rank for, along with the number of impressions and clicks they bring you.
1. Free topic search tools
Google auto-suggest
If you're struggling to think of additional keywords people might be searching for, why not look at some of Google's suggestions?
So go to Google, and you'll see keyword suggestions as you type in your word or phrase: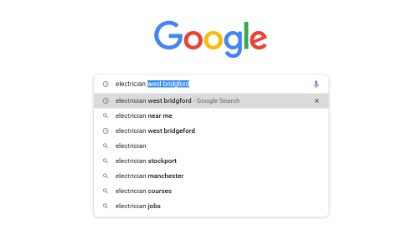 You can also scroll down to the bottom of the page to see Google's related searches. These are searches that google thinks are related to your search.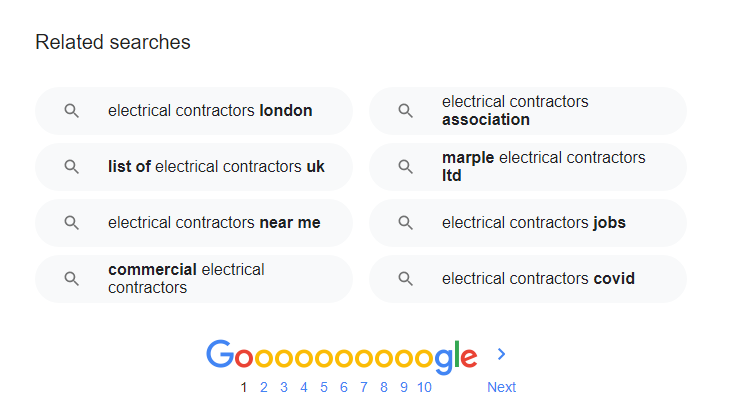 These are excellent for sparking ideas for other keywords you might have missed.
Google Trends
Google Trends great tool that shows you high-volume keywords for you in your niche. It gives you the opportunity to check a keyword's popularity over time!
This is especially useful now to see how covid-19 has affected your business online! Potentially answering the question of, "should I put in the time and effort. to rank this keyword phrase?".
To use it, first go to Google Trends and enter the keyword you want to rank for in the "Explore" search field at the top of the page. The tool will then display to you "interest over time":
For example, here is the "interest over time" for the search term "office coffee".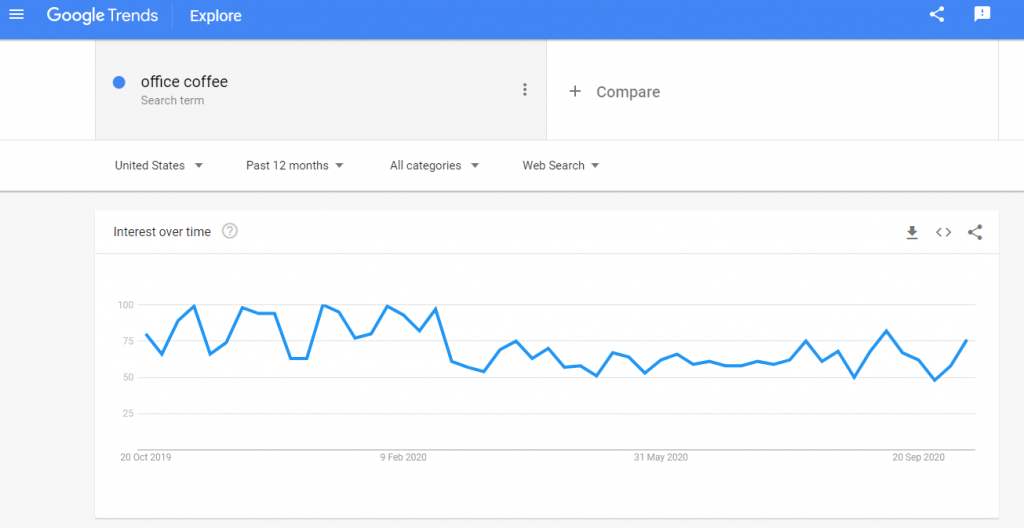 As you can see, the search volume is stable, with a slight obvious decrease since January 2020.
Now at the same time at the start of March 2020 you can see here a huge increase in the search term "toilet roll":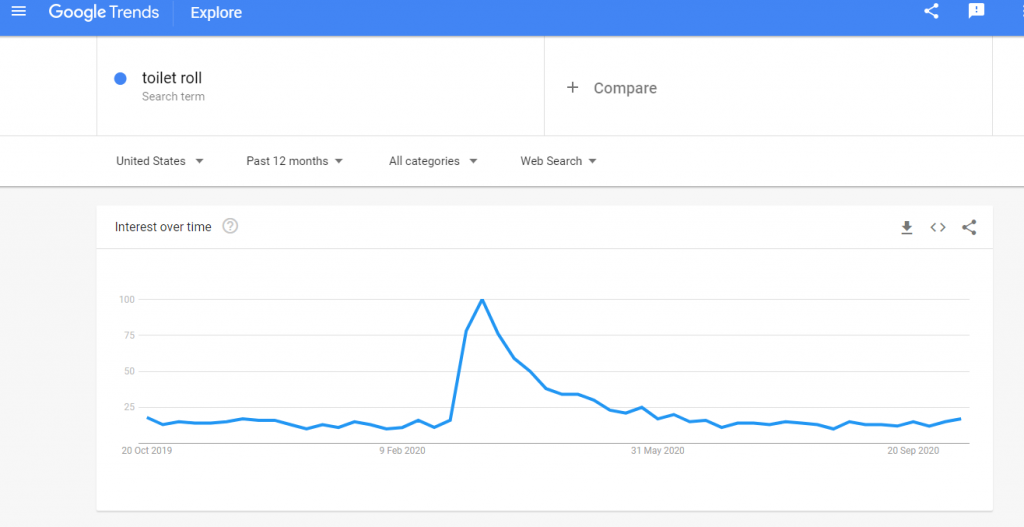 When you scroll down the page, you'll also find "Related queries" that you might've missed in your research.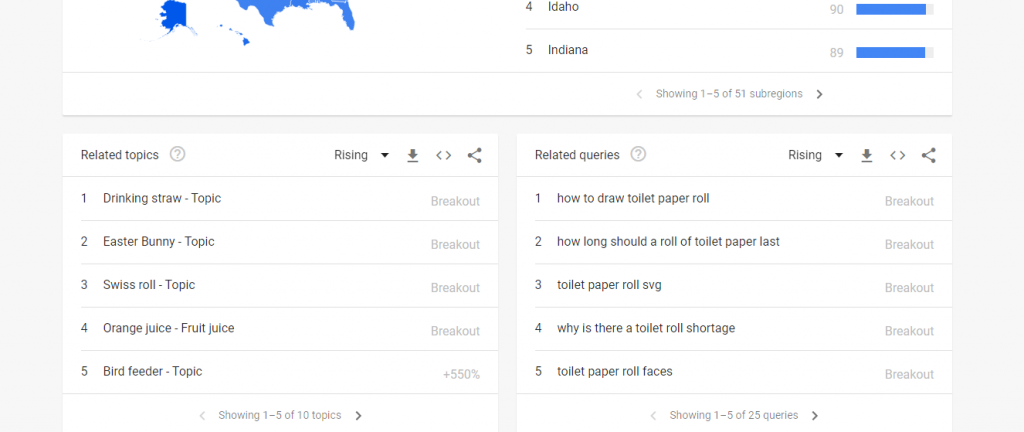 Answer the Public
Answer the Public is another useful tool to help you find out any related question-focused keywords. It's easy to use, just type in a keyword into the search box and click "Get questions".
The tool will return lots of questions that people ask in relation to that topic: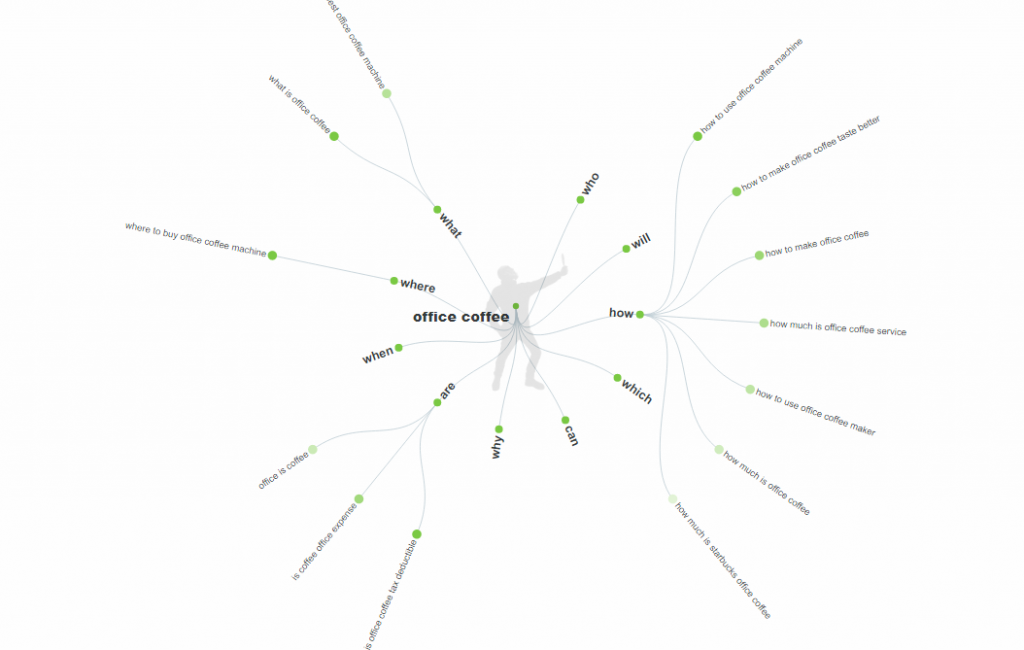 2. Free keyword search tools
Google's Keyword Planner is a free tool "from Google" for keyword research.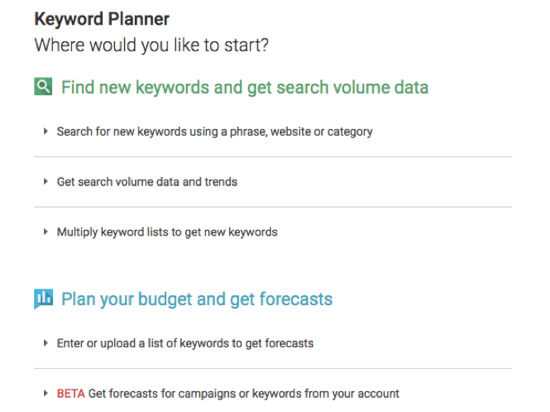 To use it you'll need to sign up for a Google account. Plus, we recommend running an active Google AdWords campaign when doing your research in order to avoid getting ranged search volume results that are too broad.
Check out this useful resource from Google that explains how to use the Keyword Planner to search for new keywords and get search volume data and trends.
Ubersuggest
Another great tool for sourcing and exploring keyword ideas is Ubersuggest which scrapes Google for suggestion keywords.
It's pretty simple to use. Simply type in a keyword, select the language and source: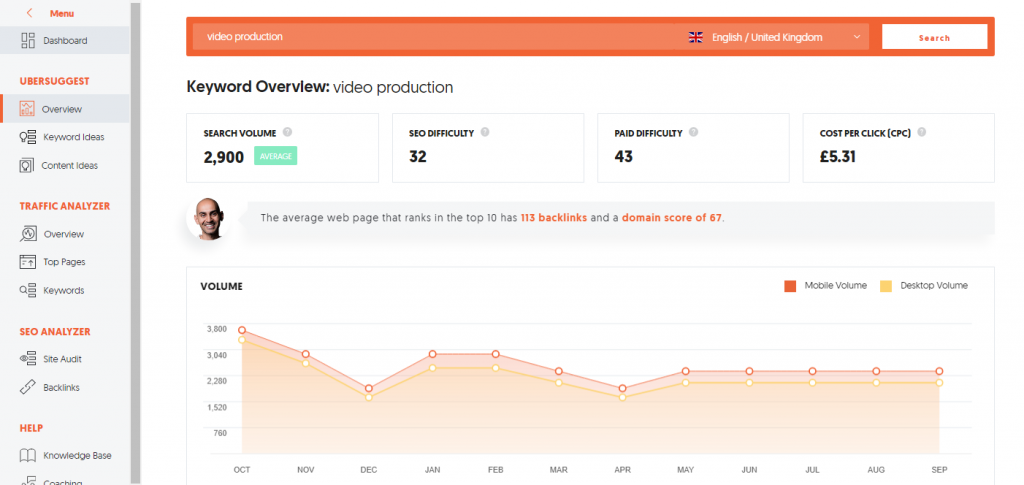 KWFinder
The cool thing about KWFinder is that the tool returns keyword suggestions, questions and autocomplete as part of the results, multiple tools in one.

The downside though is that when you register for a free account, it's limited to three lookups for 24 hours and 50 related keywords for search. If you want more, you'll need to upgrade to a paid account.
3. Paid keyword search tools that offer free trials or reports
The tools below are vastly more advanced and expensive, but they do offer free trials or reports.
If you want to get some more detailed, in-depth data about your website and find out exactly what keywords your competitors are ranking for, you can purchasing a paid plan if you wish.
This is one of the most detailed in terms of the types of information that it delivers for you, a very useful research tool that shows you related keywords, as well as sites that are competing for those similar keywords.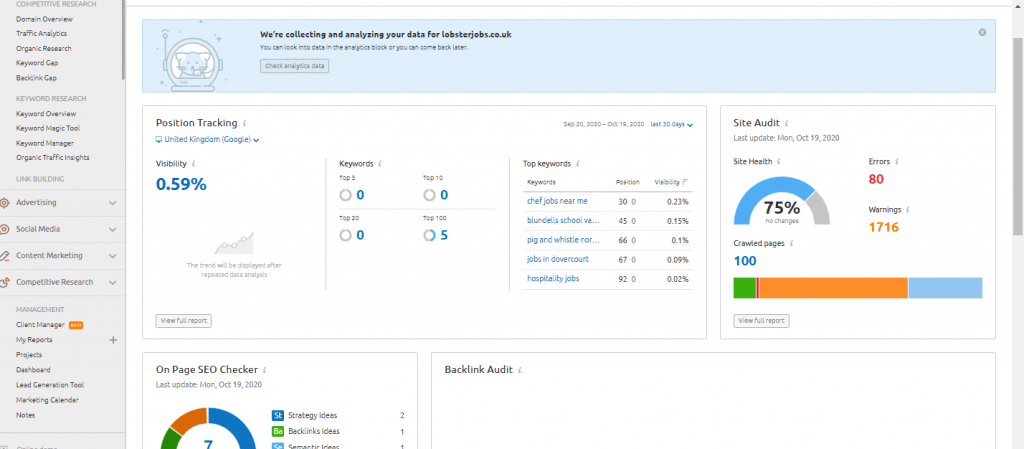 You can claim a free trial by running a search on Google for "SEMrush free trial" and you'll find plenty of referral links.
Ahrefs is a research tool that also provides a keyword research tool as part of the package.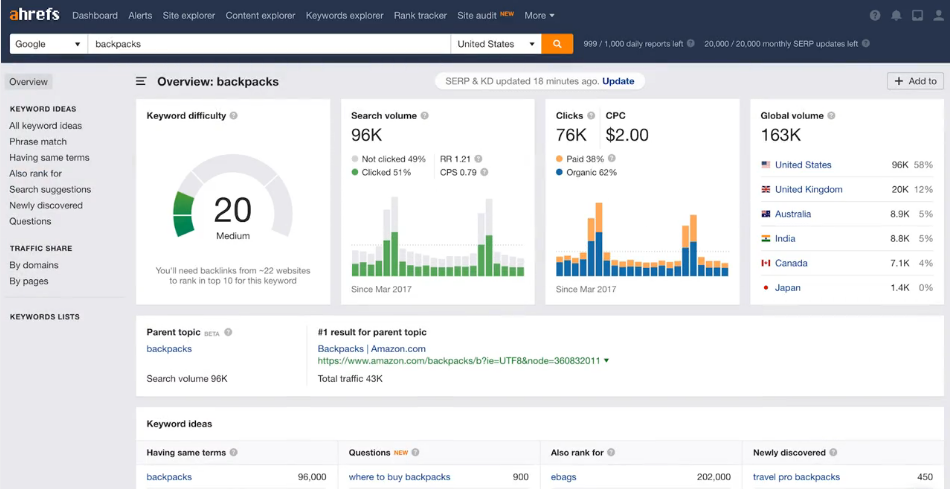 Apart from keyword suggestions and SERP analysis, Moz's tool is one of the best ones at assessing how difficult a keyword is. In other words, it can help you to determine how difficult it is to rank for a specific search terms.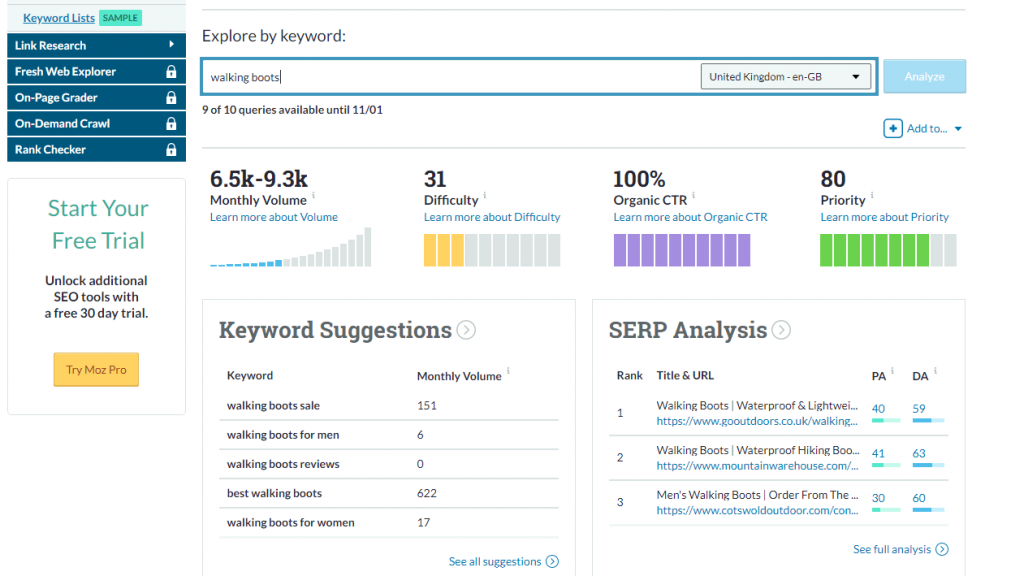 Moz is more generous, offering a free 30-day trial to get you familiarised with the tool before you purchase a plan.
An SEO's job is never done
The process of keyword research is an ongoing one. Keyword research never ends. Over time, keyword terms your potential clients use to search for your business will change so you will need to on a regular basis analyze your list of keywords to adapt to new trends and technologies. As your business grows and you gain more authority in the search engine results pages, you can add even more keywords to your list so you show up for more related searches.