Here at Manchester SEO we know us SEO's these days you need to understand that SEO isn't just ranking pages organically anymore, it can involve many other things like social media, PPC and Schema just to mention a few.
One such example of this is when looking at the job and recruitment industry.
If you own a business or a recruitment company or even a jobsite (Like me) then you know as well as me how much it can cost to advertise your vacancies online,. from Indeed, to Monster, to Totaljobs, Caterer.com and even LinkedIn. The cost is massive.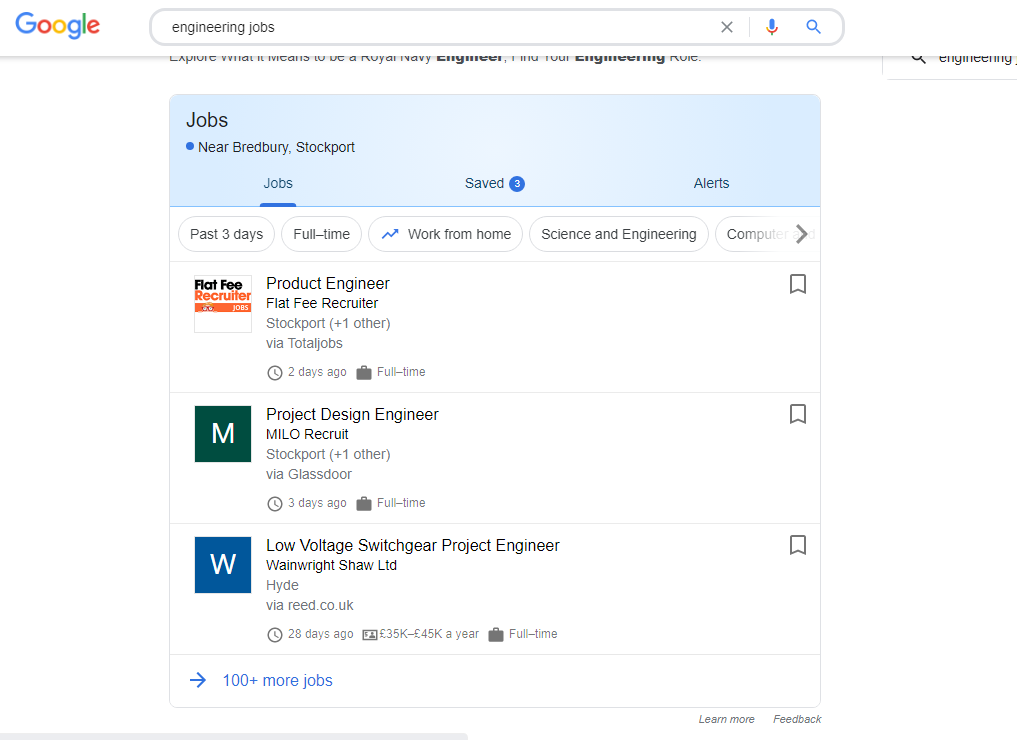 Apart from Indeed who actively stop their jobs from being indexed by Google for Google jobs the others have their jobs picked up by google and displayed at the top of the search engine results page.
But the link goes back to their site. Why couldn't go back to your site?
If Google just picked up your jobs directly from your site? And displayed them for free on Google Jobs! You possibly wouldn't need to spend that money anywhere else, or at least you could cut down the amount and it would increase your ability to manage the user experience and build your brand.
How do you Post your Jobs on Google Directly:
1. You'll need a website.
You won't be able to directly send your jobs to Google search results if you don't have a website, but if you don't you may be able to post with a 3rd party site that does post to Google, although many job boards require companies to have a site also.
2. Publish your job postings on your website.
Seems pretty straightforward. You'll want a careers page on your site that lists all your current job postings.
This might sound scary if you're not a technical person. Adding structured data to the job postings tells Google that it's a job posting and labels the essential info. If you can't do this and don't want to go 3rd party, it should be easy to find a freelancer who can.
4. Use sitemaps to let Google know when you've added and removed jobs.
If you want people to apply to jobs you've just posted, or don't want them to apply to jobs you've taken down, use sitemaps to quickly tell Google what's going on. Again, you'll need someone technical to set this up and submit them.
5. Track results in Google Search Console.
You'll be able to see impressions and clicks in search console, to see how well Google for Jobs is working for you, and make sure it's running correctly.
Believe us, I have done it! Below is what Google Search Console is showing for the job searches that Lobsterjobs.co.uk shows up for, without any on page SEO optimization.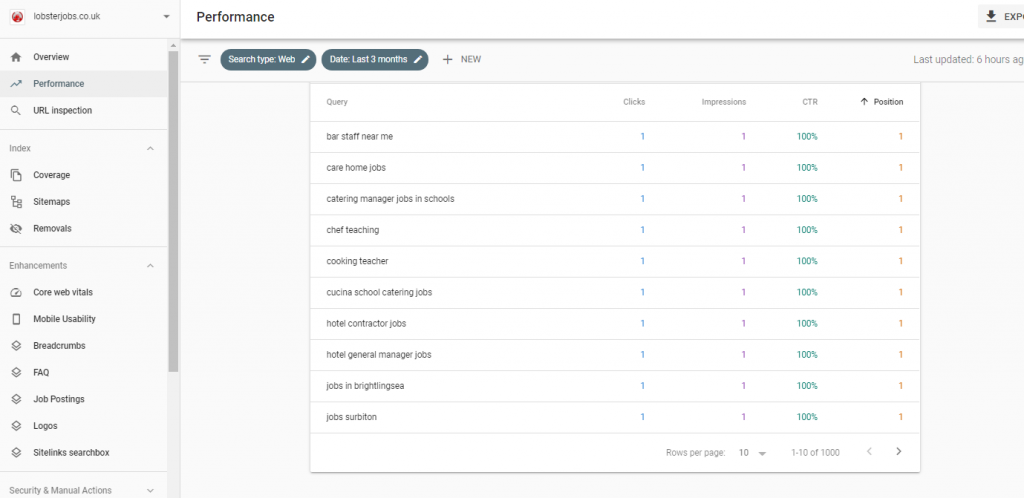 If you would like to know more please contact us and we would be happy to help!
Frequently Asked Questions (FAQs)
How do I job post for free on Google?
Configure your jobs page correctly so that it integrates with Google for Jobs, or use a 3rd party service to do it for you.
Can anyone or any company post a job on Google for free?
Yes, at the moment any business can if the jobs are posted in English.
It does not look like the Google job search engine has been rolled out to non-English-speaking countries yet.
Is there a Google job posting site?
Not really. Rather than create a separate Google for jobs website, or Google job board, Google job listings show up in organic search results. So if you search for something like Catering Jobs near me" on Google's search page, you'd see Google job postings for that search among the results.
How long does it take for my Google job listing to show up?
Assuming you have everything set up correctly, it shouldn't take too long – you just have to wait for Google to index your site. This can sometimes take a few days, but often much quick than that.